Asbestos.com is a website and advocacy group that helps the victims of asbestos exposure and their loved ones. We connect our visitors with the resources they need to understand and fight asbestos-related disease, all at no cost. We research the latest data about asbestos and asbestos-related diseases to ensure an accurate, up-to-date site, and we maintain relationships with doctors and cancer centers to promote patient access to cutting-edge treatment.

Our mission is to guide mesothelioma patients and their loved ones toward answers, care options, and free health solutions that improve their lives. Mesothelioma Guide was founded with over a decade of experience serving the mesothelioma community and a commitment to creating a better environment for patients and family members. By remaining a for-profit company, we're able to dedicate hundreds of thousands of dollars in free top-tier resources and patient support staff.
Thank you for trusting us to provide the best health information for patients with mesothelioma. We work hard not to let you down!

Our Mission at Brent's Place is to help those living with cancer by providing housing and programs through partnerships in our community.

For mesothelioma patients and loved ones, we provide free resources, education, support, and hope.
CFC Wish List
Food and Beverage for events
Gift Cards for Volunteer Recognition
Gift Cards for Families (e.g. King Soopers, Whole Foods, Target, Walmart, etc.)
Silent and Live Auction Items
Printing Services
Office Supplies
Laptop computers
Airline miles/vouchers for airfares
Ink Cartridges for Printers
Gift certificates for warehouse clubs (Costco, Sam's Club)
Gift certificates for book stores and music stores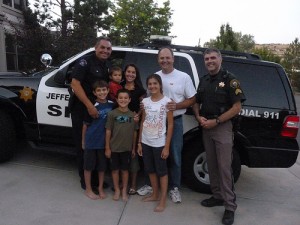 To support a family, please contact
Jim Seneca: 720-938-3810
Email: info@copsfightingcancer.org
Top 10 Reasons to Volunteer
Thinking of becoming a volunteer? See a list of reasons that will help you make up your mind.
#10: It's good for you.
Volunteering provides physical and mental rewards. It:
Reduces stress: Experts report that when you focus on someone other than yourself, it interrupts usual tension-producing patterns.
Makes you healthier: Moods and emotions, like optimism, joy, and control over one's fate, strengthen the immune system.
#9: It saves resources.
Volunteering provides valuable community services so more money can be spent on local improvements.
The estimated value of a volunteer's time is $15.39 per hour.
#8: Volunteers gain professional experience.
You can test out a career.
#7: It brings people together.
As a volunteer you assist in:
Uniting people from diverse backgrounds to work toward a common goal
Building camaraderie and teamwork
#6: It promotes personal growth and self esteem.
Understanding community needs helps foster empathy and self-efficacy.
#5: Volunteering strengthens your community.
As a volunteer you help:
Support families (daycare and eldercare)
Improve schools (tutoring, literacy)
Support youth (mentoring and after-school programs)
Beautify the community (beach and park cleanups)
#4: You learn a lot.
Volunteers learn things like these:
Self: Volunteers discover hidden talents that may change your view on your self worth.
Government: Through working with local non-profit agencies, volunteers learn about the functions and operation of our government.
Community: Volunteers gain knowledge of local resources available to solve community needs.
#3: You get a chance to give back.
People like to support community resources that they use themselves or that benefit people they care about.
#2: Volunteering encourages civic responsibility.
Community service and volunteerism are an investment in our community and the people who live in it.
#1: You make a difference.
Every person counts! List Provided by UCSD
Click here to fill out our Volunteer Form